Main content starts here, tab to start navigating
Starters
Additional dipping sauce $0.50 each
Brisket Queso

blend of fire-roasted Anaheim peppers, cheddar cheese, brisket, corn pico, jalapeños and chow-chow.

14.5

donkey queso $7

Donkey Balls*

fried Oaxaca white cheddar with a hint of jalapeños. your choice of dipping sauce: marinara or ranch.

$10

Loaded Cheese Fries

our fresh-cut fries topped with queso, shredded cheddar, bacon and green onions.

$12

Chips & Salsa

corn tortilla chips with our made-from-scratch fire-roasted salsa.

$5.50

Texas-Sized Sampler

five of our most popular starters: buffalo wings, wagon wheels, donkey balls, s&a chicken strips and jalapeño skins. you pick 3 dipping sauces: marinara, ranch, red ranch, bbq and honey mustard.

$21
Stacked-Up Nachos

chips, jalapeños, seasoned beef, lettuce, cheddar, queso and pico.

$13.50

Willy's Wagon Wheels*

deep-fried, lightly battered pickle slices.

$10

Homemade Jalapeño Skins

fresh bacon-wrapped jalapeños stuffed with chorizo and Oaxaca cheese then fried.

$11

gluten free

Texas Triple Dip

brisket queso, guacamole and salsa with chips.

$19

Smoky Guacamole

chunky-style fresh avocado, roasted fresno peppers, pico and smoked bacon.

$11

gluten free

Quesadilla

your choice: chicken, brisket or pulled pork with Oaxaca cheese. served with our housemade fire-roasted salsa.

$12.50
Use Your Hands
Served with fresh-cut fries, waffle fries or a side salad
(sub sweet potato fries +$2.25, chipotle potato salad +$1.25 or fruit +$2.25)
gluten-free buns available upon request (+$2.25)
additional dipping sauce $.50
BBQ Brisket Grilled Cheese

bacon, pickled sweet jalapeños, cheddar, bourbon bbq sauce, whole wheat bread.

$15

Sliced Brisket Sandwich

Carolina Slaw, pickled sweet jalapeños, bourbon bbq sauce, hoagie.

$15

Brisket Melt

caramelized onions, mushrooms, gouda, chipotle mayo, challah bun.

$15

Pulled Pork

tangy slaw, pickled sweet jalapeños, bourbon bbq sauce, whole wheat bread.

$14

Smoked Turkey Melt

tomato, fresh jalapeños, red onion, gouda, chipotle mayo, hoagie.

$17
#28 Chicken Sandwich

avocado, pepper jack, lettuce, tomato, chipotle mayo, challah bun.

$14

Buffalo Chicken (Fried or Grilled)

crispy chicken tossed in sweet cayenne sauce on a challah bun. side of blue cheese dressing.

$14

Baja Chicken Wrap

peppers and onions, lettuce, tomato, grilled corn, pepper jack.

$14

Saloon Burger

seared beef patty with chipotle mayo, smoked onions, pepper jack cheese, challah bun.

$14

Mushroom Swiss Burger

seared beef patty, sautéed mushrooms, swiss, challah bun.

$14
Tacos & Fajitas
see sides section to add sides
Brisket Taco

jicama slaw, queso fresco, salsa roja

$4.25

Pork Taco

tangy slaw, gouda, bbq sauce.

$3.75

Pastor Taco

Carolina Slaw, pineapple, cilantro.

$4
Breakfast Taco

egg, choice of bacon, brisket, pork or potato, cheese.

$3.50

Fajita Plate

beef or chicken. served with grilled onions and bell peppers. sides of guacamole, sour cream and cheddar cheese, chipotle rice, black beans. served with our housemade fire-roasted salsa.

Chicken $16

Beef $18

Upgrade to a combo + $3.25
Sides
Fresh-Cut Fries

$3.50

Waffle Fries

$3.50

Sweet Potato Fries

$4.75

Fresh Fruit

$4.75

House Salad

$4

Chipotle Potato Salad

$3.75
Elote

$4.75

Carolina Slaw

$2.75

Tangy Slaw

$2.75

Black Beans

$3.75

Chipotle Rice

$3.75
Salads
Made-From-Scratch Dressings
blue cheese, ranch, red ranch, honey mustard, balsamic, mango, champagne vinaigrette, caesar
Texas Cobb

crisp romaine, egg, jicama, bacon, candied texas pecans, and your choice of dressing and meat: chicken, brisket or pulled pork

$14

gluten free

Texas Baja*

romaine, black beans, corn, cucumber, red bell peppers, shredded Oaxaca cheese and onion aside a whole blackened chicken breast and avocado slices. served with tortilla strips.

$14
Our Famous Silver Bowl Salad

chopped romaine, bacon bits, grapes, orange slices, red bell peppers, spicy chicken and two dressings: balsamic vinaigrette and caesar.

$14.75

gluten free

Social Caesar

serves two, romaine, olives, tomato, croutons, house caesar dressing.

Full $11

Half Order $8

add chicken + $4.25

add pork + $7.25

add brisket + $8.25
Wings & Strips
our wings are slowly smoked in a mixture of hickory, apple and other woods by our sister company stutz bbq, you get to choose from deep fried or air fried, then sauced up.
Sauces

bbq, spicy bbq, sweet chili, classic buffalo, S&A buffalo, lemon pepper, pesto/balsamic

Chicken Wings*

served with carrots, celery, classic ranch or red ranch.

$14

add fresh cut fries + $2.75

Classic Strips State & Allen Style*

buttermilk marinated, tossed in 9 herb breading, deep fried, then served regular or tossed in your choice of sauce.

$11.50

add fries + $2.75

additional dipping sauces + $0.50
Pizza by Social Pie
14˝ pizzas, all sauces made in-house, dough made daily – pizza by the slice available after kitchen closes. while supplies last
Pepperoni

red sauce, mozzarella, pepperoni.

$15

Margherita

red sauce, fresh mozzarella, fresh tomatoes, pesto, balsamic reduction

$15

Classic Cheese

red sauce, mozzarella, parmesan.

$15

Meaty Meat

red sauce, mozzarella, ground beef, Jimmy's Sausage, pepperoni, ham.

$17

BBQ Chicken

bbq sauce, mozzarella, fresh red onion, smoked bacon.

$17

Texican

bbq sauce, mozzarella, brisket, bacon, fresh red onions, pickled jalapeños.

$18

Mexican

salsa roja, cheddar, mozzarella, fajita beef, pepper and onions, tomato.

$18

Smoky Sausage

Jimmy's Sausage, red sauce, mozzarella, smoked mushrooms, tomatoes, red bell peppers.

$17
King Pork

bbq sauce, mozzarella, pulled pork, bacon, pastor, pepperoni and fresh red onions.

$17

Buffalo Chicken

S&A buffalo sauce, mozzarella, bacon, celery, ranch

$16.50

Build Your Own Pie

choice of sauce, mozzarella

$13.45

+ $2 per topping

Sauce

red, bbq, pesto, salsa roja, S&A buffalo, garlic oil

Meat

bacon, chicken, ground beef, ham, Jimmy's Sausage, pepperoni, brisket, fajita beef, pulled pork

Cheese

cheddar, feta, gouda, mozzarella, Oaxaca, parmesan

Veggies

celery, fresh red onions, jalapeños (fresh or pickled), mushrooms, pineapple, black olives, pepper/onion mix, tomatoes (chopped or sliced)
Daily Drink Specials
Monday

crown royal (deluxe, regal apple, vanilla, or benders mash)

$6

Tuesday

screwball

$5

Wednesday

donkey punch & purple nurples

$5

Thursday

1/2 priced wine

Friday

ketel one vodka & ketel one botanicals

$7

Saturday

bloody marys & mimosas (Open - 1 PM)

$4
Daily Food Specials
Monday

burgers

$8.95

Tuesday

salads

$9.95

Wednesday

buffalo chicken sandwich

$9.95

Thursday

fajitas

$9.95

Friday

chicken strips

$8.95
Dessert
S'mores Pie

marshmallows, marshmallow cream, chocolate chips, chocolate syrup, graham cracker crumbs.

$7.50
Happy Hour
mon - fri 4-7 p.m.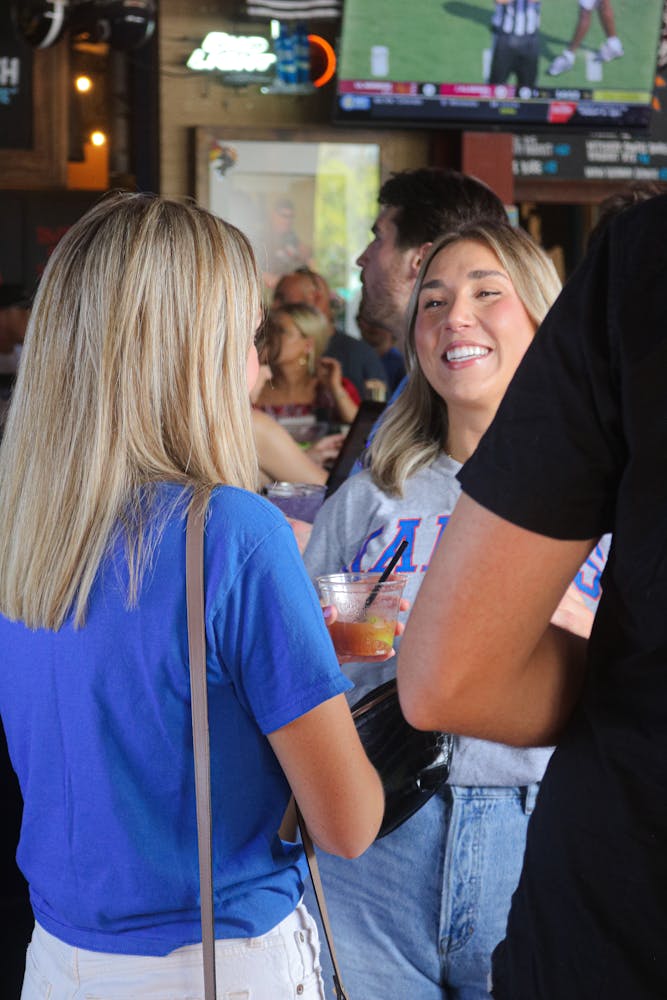 Domestic Drafts

$4

Wells

$5

Import Drafts

$5

Local Drafts

$6

House Wines

$5

Select Appetizers

brisket queso, jalapeño skins, wagon wheels, donkey balls, loaded cheese fries

$6.50
Cocktails
Donkey Punch

bacardi dragon berry rum, veev & secret ingredients

Golden Delicious

crown royal regal apple, ginger ale & a splash of pineapple

Old Fashioned

bulleit bourbon with a splash of cherry & bitters

Summer Beer

grey goose l' orange vodka, wheat beer & lemonade

Moscow Mule

grey goose original, vodka & ginger beer

Flawless Fizz

kruto flawless vodka, lemon juice & club soda

Purple Nurple

bacardi arctic grape rum & grape fruit-ade

Spiced Cherry Cola

bacardi spiced rum, cherry, and cola

Botanical Bubbly

ketel one botanical grapefruit & rose mixed with club soda

Spiked Mimosa

ketel one botanical peach & orange blossom

Ranch Water

made with don julio blanco

Whiskey Sour

made with crown royal whiskey

Scotch Highball

johnnie walker black, soda, & lemon

Jamaica Cooler

milagro silver tequila, soda, lime & simple syrup

Tequila Sunrise

made with jose cuervo

Jager Mule

jägermeister mixed with ginger beer & limes

Perfect Lemonade

hendricks gin & fresh lemonade

Top Shelf Margarita

tres agaves tequila, agave & fresh lime juice

Paloma

cazadores reposado tequila & fresh lime, grapefruit, soda

Strawberry Lemon Drop Martini

made with smirnoff zero-sugar infusion strawberry & rose

Island Hurricane

dark rum, sugar island coconut rum, juice & cherry grenadine

Bird Dog

bird dog black cherry & cola

Green Tea

tullamore dew peach, sour & lemon-lime soda

Habanero Organic Bloody

made with hanson organic vodka

Irish Mule

jameson & ginger beer

Ambulldor

ambhar tequila plata, energy drink, & fresh lime
White Wine
Sycamore Lane

chardonnay

$6

Folie A Deaux

chardonnay

$10

Terro D'Oro

pinot grigio

$10

Napa Cellars

sauvignon blanc

$11

Bieler Pere Et. Fils

rosé

$8
Red Wine
Sycamore Lane

cabernet

$6

Joel Gott

cabernet

$13

Menage Lavish

merlot

$9

Finca Nueva

tempranillo

$11

Seaglass

pinot noir

$10
Spritzers
all under 73 calories with club soda. your choice of...
Ketel One Botanical Grapefruit & Rose

Ketel One Botanical Peach & Orange Blossom

Ketel One Botanical Cucumber & Mint

Smirnoff Zero - Sugar Infusions Strawberry & Rose