What's New at The Nodding Donkey?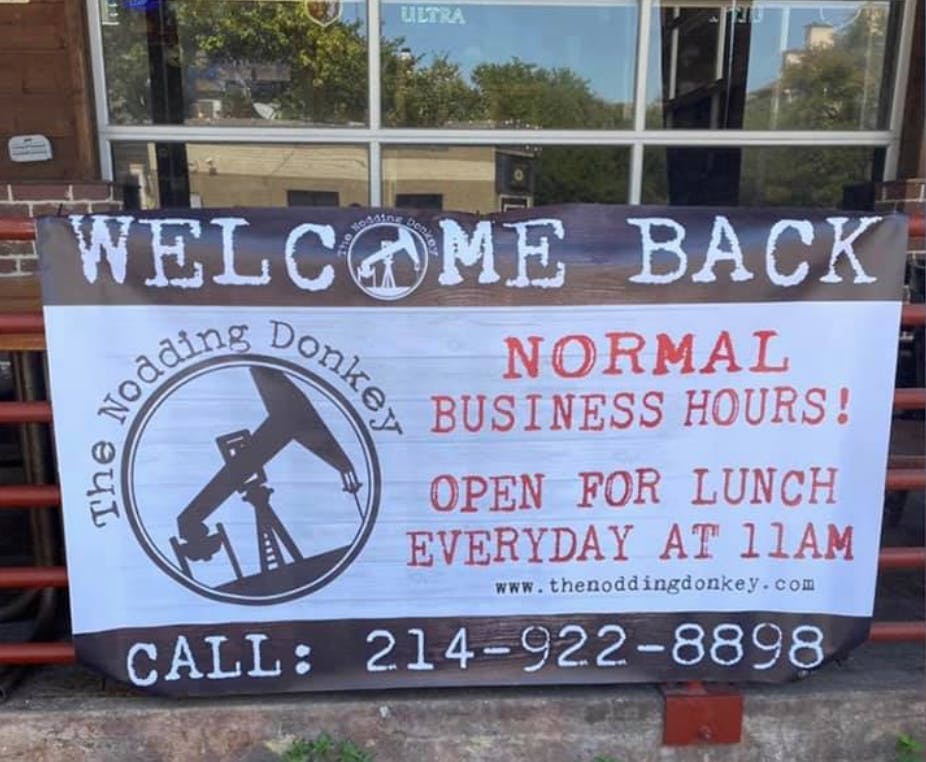 What's New at The Nodding Donkey?
After a couple of challenging years, The Nodding Donkey is excited to be open again for regular business hours - and making lots of new updates to the menu. Read on to learn about a few of the new things happening at the best sports bar in Dallas!
Pizza!
Yep – we have delicious artisan pizzas waiting to be devoured! Our all-new pizza menu includes favorites like Pepperoni, Margherita, and Classic Cheese, but we also have some out-of-the-box pizzas like the Texican and King Pork. Enjoy these with an ice cold craft beer, handcrafted cocktail, or get them for delivery to be enjoyed from your couch. Either way, you'll love our new, mouthwatering pizzas.
New Menu!
In addition to adding pizza to our dish selection, we have an all-new menu at The Nodding Donkey – the best sports bar in Dallas - that you are sure to love! Our menu includes incredible starters, fresh salads, handhelds, authentic tacos and fajitas, wings and strips, and of course, dessert. You'll love our expanded menu of sandwiches, burgers, and wraps, such as the Sliced Brisket Sandwich with Carolina slaw, bourbon bbq sauce, and tender brisket on a fresh hoagie. Sure, you'll still find your favorites like the Original Silver Bowl Salad and BBQ Brisket Grilled Cheese, but we are excited for you to try some of our new offerings as well. Let us know what you think!
New Electrolyte Enhanced Water!
Have you heard of Live to Give? Live to Give is a pH balanced bottled water that gives back! 50% of their profits go toward supporting the military, first responders, and their families. At The Nodding Donkey, we love supporting our community, and we are thrilled to be offering Live to Give water for purchase at our Dallas restaurant and bar. Come try it out and give back!
Restaurant Updates!
While our dining room has been closed, we've taken the opportunity to make some interior improvements. We have an all-new kitchen space and a new air conditioning system, guaranteed to keep you cool while enjoying great food and an ice cold drink with friends. Of course, we still have plenty of big screen TVs throughout our indoor-outdoor space, offering nothing but the best seat in the house for watching baseball, soccer, – and hopefully soon enough! – a little football too.
Join us this week at The Nodding Donkey!
Come join us this week at The Nodding Donkey, open for normal business hours 7 days a week. And don't forget about our delicious lunch offerings, served at 11am each weekday. Not comfortable dining in just yet? No problem! You can order for delivery. Experience the all-new Nodding Donkey, the best sports bar in Dallas!