Eating Healthy in the New Year? 4 Things to Order Now.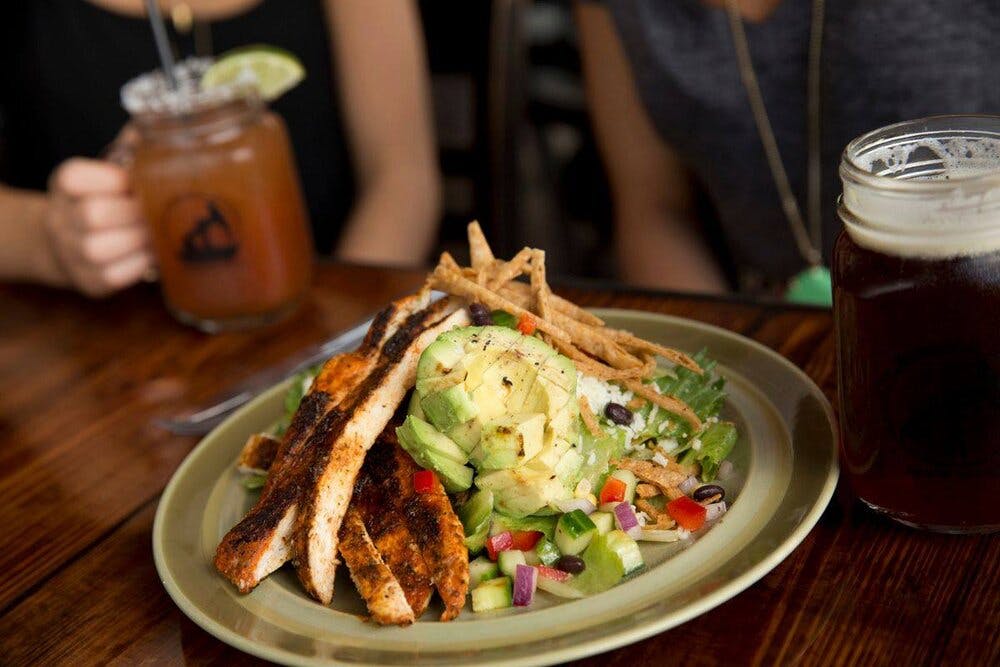 January 15, 2021
What are your New Years' resolutions?
Do any of them have to do with having a more healthy lifestyle in 2021?
You may think that just because you have new dietary goals that The Nodding Donkey can't be your go-to sports bar anymore – and that simply isn't true! Yes, we have your mouthwatering, deep-fried goodness, but we also have a great menu of salads, sandwiches, and more that are perfect for those wanting to cut calories and eat better in the New Year.
Not sure what to order? Here are 4 delicious options available now:
The Famous Silver Bowl Salad
When ordering a salad at The Nodding Donkey, the Silver Bowl Salad is always our go-to. This incredible salad is "famous" because guests have raved about it since day 1! It's a staple at our sister restaurant, State & Allen, and was so popular that it trickled into our menu as well. Packed with protein, this salad includes spicy grilled chicken, bell peppers, orange slices, grapes, bacon bits, and crispy romaine drizzled in two amazing dressings: Caesar and Balsamic vinaigrette. Oh – and gluten-free folks rejoice because this salad fits the bill! Order today and you will not be disappointed.
Grilled Buffalo Chicken Sandwich
You can always get this fried too, but when you want something that cuts down on calories, grilled is a great way to go! This sandwich tosses crispy grilled chicken in our sweet cayenne sauce, then serves it on a fresh challah bun. Blue cheese dressing is served on the side for dipping or drizzling on our sandwich – your choice. And instead of our fresh-cut fries (I know – they are amazing), you can always pair this with healthier options like a side salad or fresh fruit.
Texas Baja Salad
Think of the Texas Baja as your way to infuse the flavors of your favorite Tex-Mex dish into a hearty salad. Who knows?! This may even become your favorite dish at our Dallas restaurant and bar! The Texas Baja starts with a bed of romaine, loaded with red bell peppers, cucumber, black beans, corn, onion, avocado slices, and blackened chicken breast. Sprinkle on a few tortilla strips and you are set for an amazing salad!
Texas Cobb Salad
If you are craving some smoked barbeque, then why not enjoy it on a salad instead? The Texas Cobb Salad is offered with pulled pork, brisket, or chicken, and you will love the flavors of our meat that is smoked in-house, combined with jicama, bacon, egg, candied Texas pecans, and lettuce.
Sticking to your health goals this year doesn't mean you have to cook every meal! Meet your friends here at The Nodding Donkey this week for salads, sandwiches, and more at your favorite Dallas restaurant and bar.