Pizza at The Nodding Donkey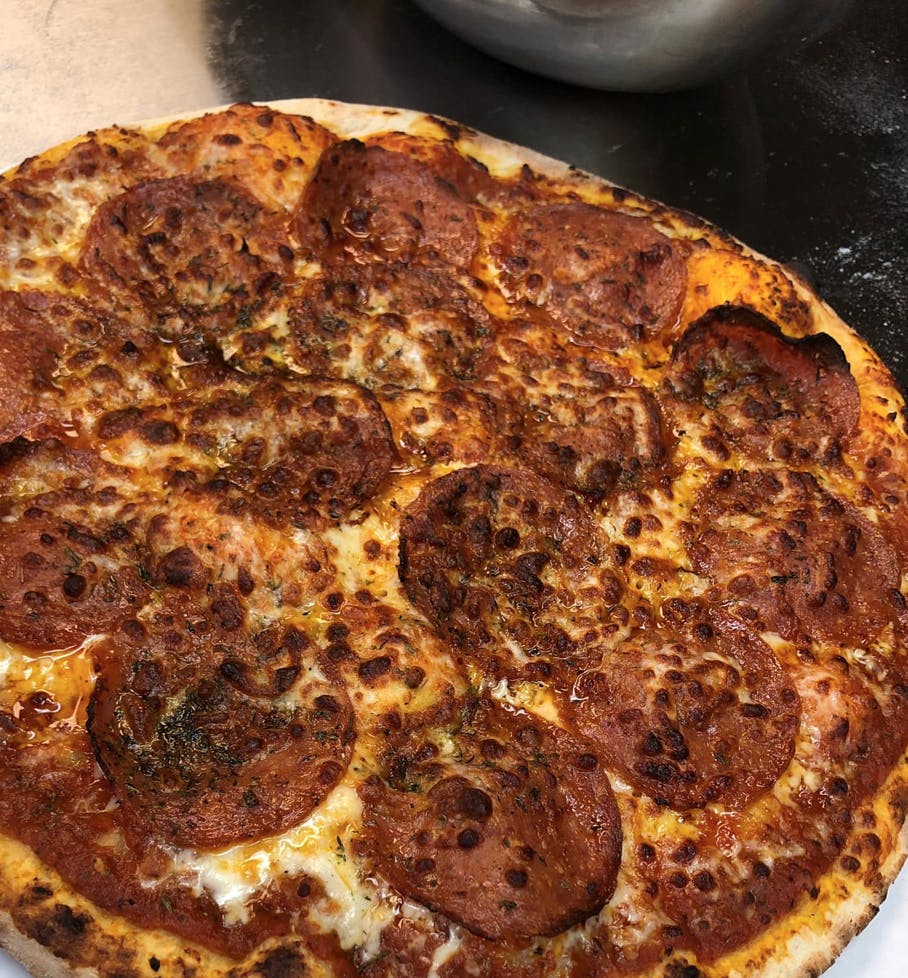 Pizza at The Nodding Donkey
HAVE YOU TRIED IT?
If you haven't joined us yet for pizza, wings, and beer at The Nodding Donkey, this is your week! We would love to see you here at the best sports bar in Dallas. Here's a closer look at some of the pizzas on the menu:
Classic Pepperoni
Sometimes you just don't mess with a classic. Classic pepperoni and cheese is always good – all the time. Enjoy our classic pepperoni pizza with our house red sauce made with Texas tomatoes, fresh mozzarella, and the best pepperonis on a hand-tossed crust.
Classic Cheese
House red sauce and cheese; it's everything you'll find on our Classic Pepperoni - without the pepperoni of course! Wings are a great side for this pizza, and it's hard to resist a craft beer to wash it all down.
Margherita Pizza
Fresh and flavorful, the Margherita Pizza brings out all the flavors of Italy! You will love the zesty fresh basil and fresh tomato slices combined with the rich flavors of fresh mozzarella and our signature red sauce.
Texican Pizza
Want to change it up a bit? We get it! At The Nodding Donkey, the best sports bar in Dallas, we have a whole menu section dedicated to Texican fare. What is Texican? It's simply a mix of Tex-Mex and fabulous Texas BBQ, and our Texican pizza embodies those flavors perfectly. Enjoy our Texican pizza with smoked brisket, bacon, pickled jalapeños, and red onions layered on top of mozzarella and delicious BBQ sauce.
BBQ Chicken Pizza
Our BBQ Chicken Pizza is very similar to the Texican pizza with a BBQ sauce base, loaded high with chicken, bacon, red onions, and gooey mozzarella. So many guests rave about this delicious pizza!
Get Some Wings Too!
Pizza and wings are a great combination! Chicken wings are a staple on our appetizer menu, available with classic barbecue sauce, spicy barbecue sauce, classic buffalo, lemon pepper, or S&A buffalo sauce. Our wings are smoked in-house, then fried for the perfect finish. You can also request them baked! Just let us know over the phone or tell your server, and we will get it taken care of. Either way – they are finger licking good!
Need a Pizza Fix?! Head to The Nodding Donkey!
If you are looking for a great sports bar in Dallas and want to enjoy some fabulous pizza, come see us at The Nodding Donkey! We've been serving our piping hot pizza on the regular here and guests have been loving it. Not sure when we're open? Call or follow our Facebook page for current offers and hours of operation.