Take a Break from Turkey with The Nodding Donkey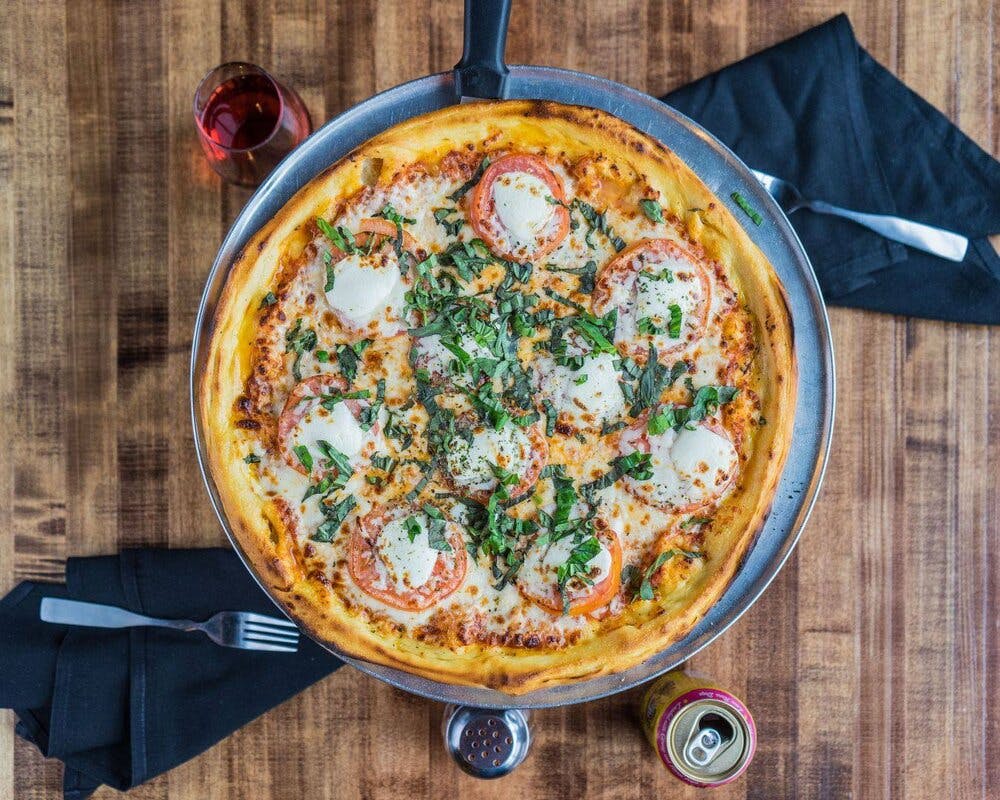 November 23, 2020
We all look forward to a big Thanksgiving meal with turkey, dressing, and all the fixins. But as much as we love Thanksgiving leftovers, after a while you just need something different.
As you're making plans for Thanksgiving weekend, plan to take a break from the leftovers (and the family) with incredible food and beverages at The Nodding Donkey!
Full Menu of Fan Favorites
Thanksgiving weekend is a great time to join us for great food, amazing Dallas drink specials, and football. Tons of great games will be on, and you know we will have the tv on and ready to watch alongside you. With 20 big screens situated throughout our restaurant and bar, there simply isn't a bad seat in the house.
The Nodding Donkey recently released an all-new menu, expanding our menu to offer more of what you love. Glancing over our menu you will find something for everyone: Tex-Mex, barbeque, wings, burgers, salads, appetizers, and the newest favorite – pizza.
Pizza: Now Available at The Nodding Donkey!
Once you have had your fill of turkey, come see us for the best pizza in Dallas at The Nodding Donkey. Earlier this Fall, our sister restaurant – Social Pie off Maple Ave. – opened a "ghost kitchen" in The Nodding Donkey. What does that mean? Simply put – it means that you can now enjoy the same delicious, artisan pizzas you loved in the Medical District here in Uptown as well! These gourmet pizzas are available for dine-in, carryout, or delivery, so they are well suited to whatever your dining needs may be. Order online and you don't even have to leave your couch! Bring on the College Gameday or Hallmark Holiday Movie Marathon!
What Are Some of the Most Popular Pizzas?
With a full menu of pizza options available, it can be difficult to decide which one to order. Let's highlight a few of the most popular offerings:
MEATY MEAT
When it needs to have meat, it needs to be the Meaty Meat. This is our version of a meat lovers, loaded with classic pepperoni, Jimmy's sausage, ground beef, and ham. Each pizza is made-to-order, so order as-is, or you can choose to add your favorite veggies as well.
TEXICAN
It's a little Tex-Mex…a little barbeque…and a whole lot of good! You will love the savory mixture of flavors on this pizza, loaded high with tender brisket, bacon, red onions, pickled jalapenos, and mozzarella on a bbq sauce base.
MARGHERITA
Vegetarians and pizza purists rejoice; our Margherita pizza hits the spot when you are looking for a more traditional pizza option that is big on flavor. This pizza features an incredible Balsamic reduction, delicately drizzled on top of fresh tomatoes, basil pesto, and fresh mozzarella. Enjoy with a glass of wine and a salad for the perfect complete meal.
WHEN YOU NEED A BREAK, COME SEE US AT THE NODDING DONKEY!
The Nodding Donkey is your safe haven from the hustle and bustle of the season. Come see us this Thanksgiving weekend – and throughout the holiday season – for the best pizza in Dallas, incredible daily drink specials, burgers, barbeque, and more.